Births of Giant Anteaters in zoos are very rare throughout the world. In the last 12 months there have only been 20 births registered within zoos. The clumsy little Giant Anteater, born in the Magdeburg Zoo on the 8th February 2021 can be therefore considered a zoological rarity. The Giant Anteater species has been part of the zoo's animal collection since 2001. The first breeding success of this endangered species at the Magdeburger Zoo was in 2005. The birth of this recent Giant Anteater is the fifth offspring by the breeding pair "Estrella" and "Kaspar". If you want to keep updated on the development of the new born, then read along in the diary of the little Giant Anteater.
For German version click here: Tagebuch Grosser Ameisenbär
Diary of the Giant Anteater
27. June 2021
Dear Diary,
I am still being taken care of by the zoo keepers and the vet as I am still not quite up to scratch yet. If you want to keep updated on my progress and development, then you can read more here (in German).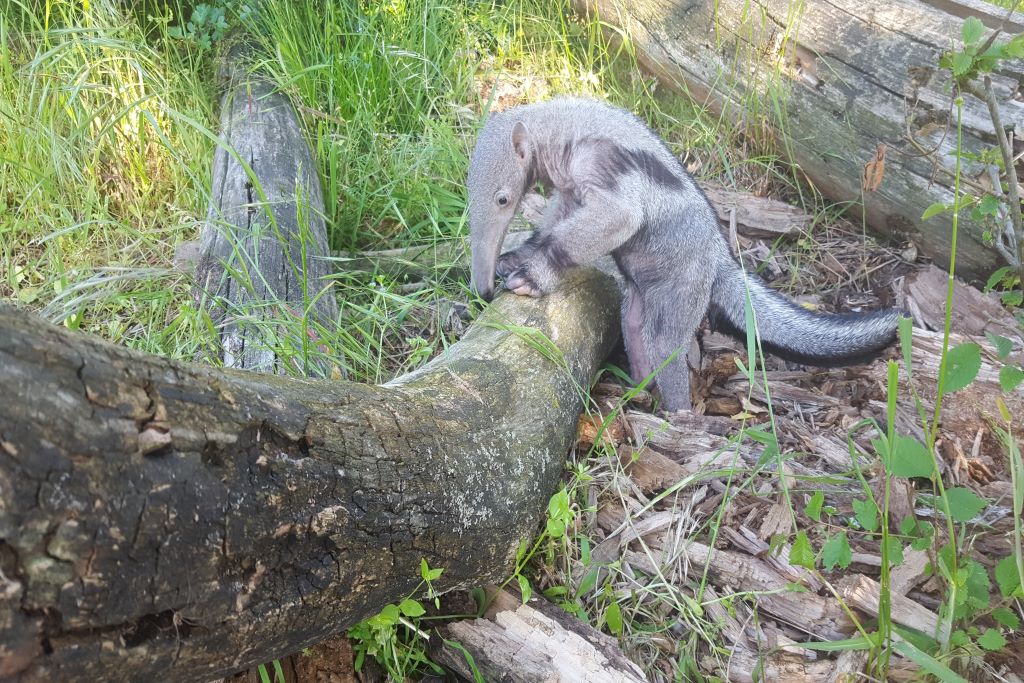 3. June 2021
Dear Diary,
I know you've not heard from me for a while, but in the meantime I have been having all sorts of adventures and discovering new things, such as new smells and different environments. I have been so enjoying being out in this good weather and making use of my climbing skills, which I'm happy to say have really been improving. As you can see from the photo, I have become stronger and more agile. You still need to be patient with me though, as I still very much need the vet and my zoo keepers, but I'm heading the right way. Right that's all for now, I'll be back with an update soon again.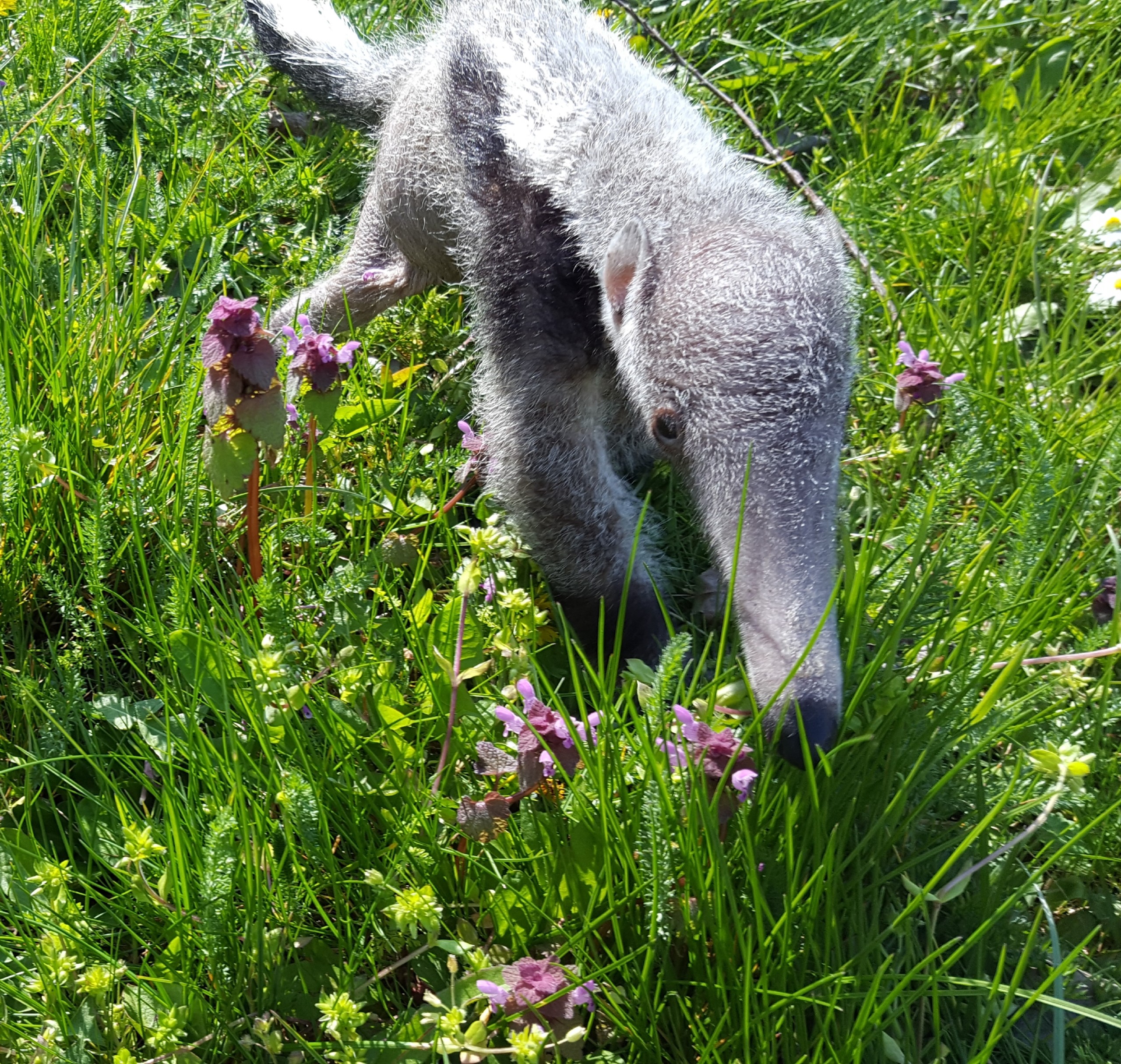 12. May 2021
Dear Diary,
Where on earth has the sun disappeared to? The last few days I really enjoyed the high temperates of over 20 degrees. To be honest, my perfect temperature is 27 degrees, that's when I feel most comfortable. The sun gives me so much more energy which makes me want to move around and this helps me strengthen my muscles. I'm sure you feel the same too.
You still can't see me at the zoo as I'm still being looked after by the zoo keepers and vet, but they are doing a great job and I'm feeling very well indeed.
I'll be back next week again to give you another update, and maybe I'll even have some more news by then.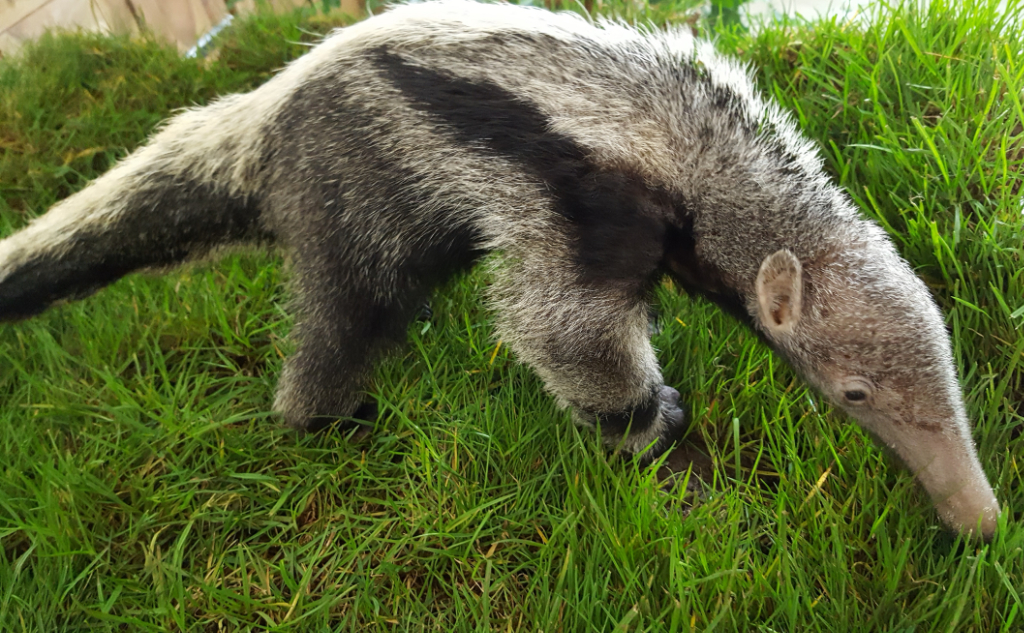 28. April 2021
Dear Diary,
Here's a picture of me from a few days ago when I was outside on the grass. I love to go out and explore when the sun is shining, even if it is just for a short time. I'm still pretty tired a lot of the time so I need my sleep, but when I'm awake I also love climbing. I'm still being well looking after by my keepers, which also means you can't get to see me yet. Dear diary, I'm not writing as regularly anymore but as soon as I have some news, I'll give you an update.
19. April 2021
Dear Diary,
Today I'd like to set something straight. I'm not being impolite when I stick out my tongue! No, it's quite simple: I stick out my tongue when I yawn and when I'm tired and ready to sleep. I also use my tongue for eating of course. At the moment I am still being cared for by my keepers and all is going well. Hopefully I can give you more of an update soon again. But for now I'm getting tired again so I'm off to sleep.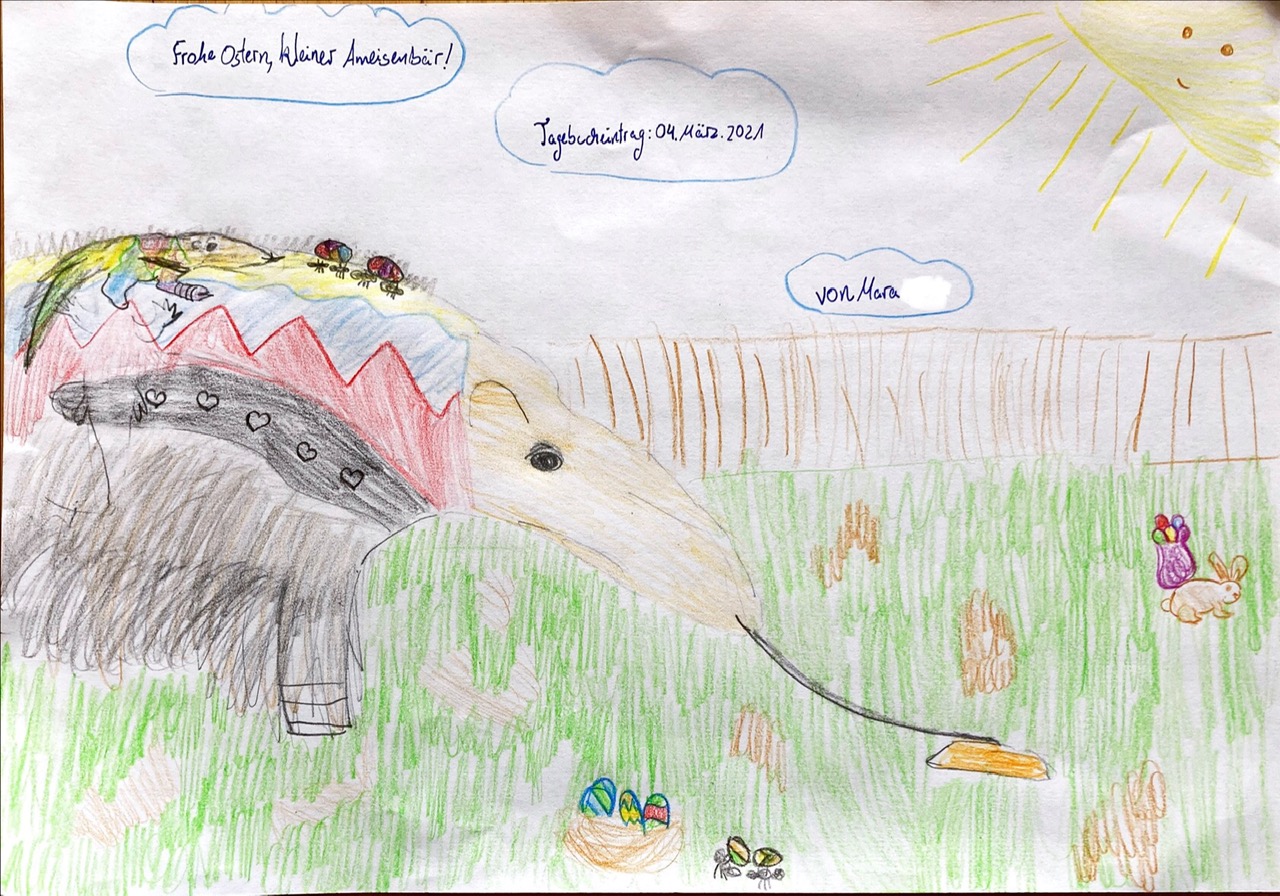 14. April 2021
Dear Diary,
We received soooo many wonderful pictures from children as part of our drawing competition. Lots of the pictures were of me on my first trip outside with my mum, even my neighbour, the tapir, appeared in some of the pictures. Many of the drawings included ants and some colourful easter eggs. There really were some lovely drawings that it was very difficult to choose a winner.  But, dear Diary, we have found a winner, Mara K. whose picture you can see on the left. She drew me when I was outside during the Easter holidays. Our 2ndand 3rd place goes to Joshua G. und Ineke S. The three winners will receive a voucher for a tour of the zoo. We would like to thank all children who took part in our competition.
10. April 2021
Dear Diary,
My keepers have tried feeding me using a baby bottle, but I didn't really want to drink out of it. So instead, they have given me my milk in a bowl which I much prefer. This way I have learned to drink out of the bowl and so I'm now feeding this way. I'm being so well looked after in my temporary enclosure that I feel very comfortable here and I have already gained some weight since being here, so everyone hopes this will continue.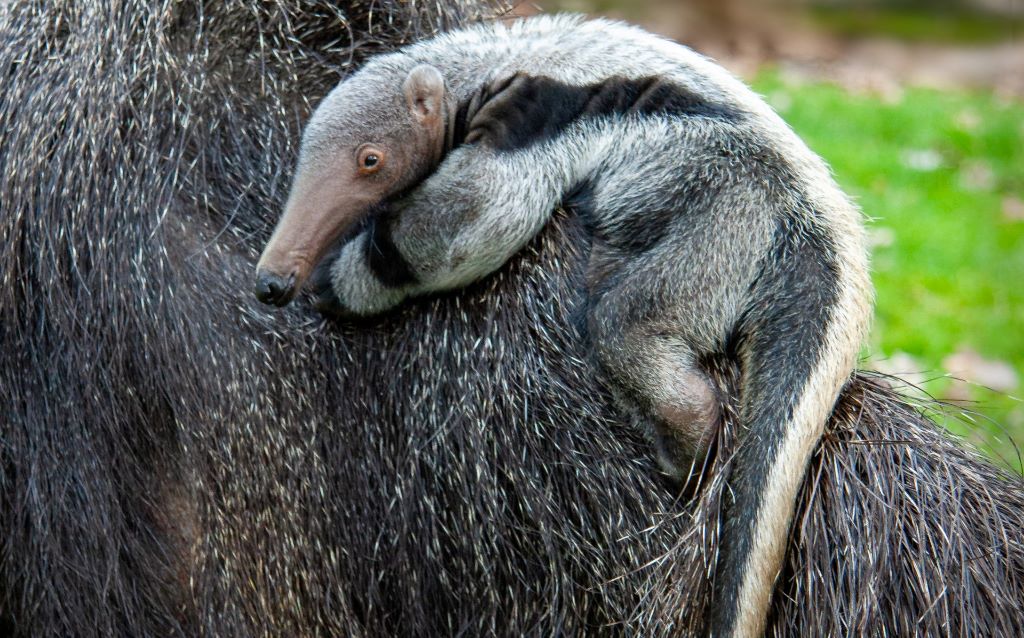 07. April 2021
Dear Diary,
Seeing as I have not gained enough weight recently, I am now being fed and cared for by the zoo keepers themselves. I now get milk formula which I like and so I'm trying to drink as much as I can. It was getting too stressful being separated from my mum each time I needed my special milk, so it's a lot easier this way.  Because of the situation, you won't get to see me for a while in my enclosure in the zoo, but I'm being well looked after in my temporary enclosure and the vet comes to see me regularly to check on my health and weight.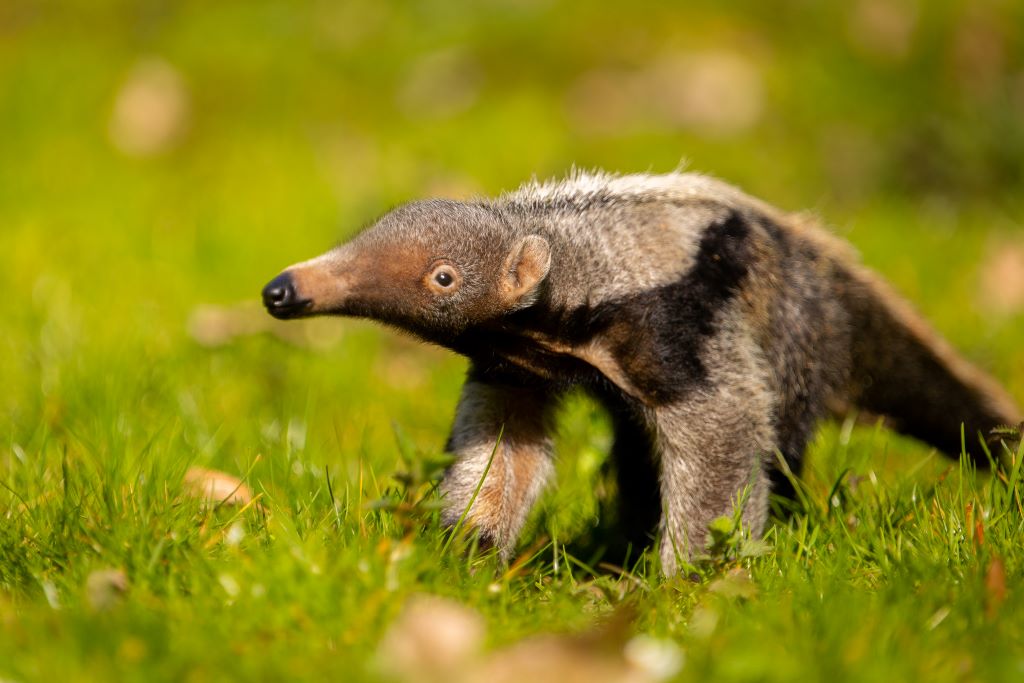 04. April 2021
Dear Diary,
Happy Easter! Giant Anteaters can be found in over 10 central and south American countries. In all of these countries, Easter traditions can be found. The "Semana Santa" or "Holy Week" lasts from Maundy Thursday until Easter Sunday in most regions, as it does in Germany. Before Easter the tradition is to be fasting in these countries and on Good Friday, traditional fish dishes are usually on the menu. On Easter Saturday the festivities start already in some places. There are also often Easter fires on Saturday evening. In one town in Peru, the streets are decorated with a sea of petals. Many cities celebrate Easter with big processions which remind us of the traditional German carnival parades. The indigenous population of Ecuador celebrates New Year during this time, which starts with them taking a bath in the river. Easter eggs or Easter bunnies only play a minor role in the countries where us Giant Anteaters can be found in the wild.
02. April 2021
Dear Diary,
Before I get to eat this yummy mash, it will take at least another month, even though I still like to have a sniff now and again. Until the time comes when I can try it out myself, I will just have to closely watch how my mum eats. At first, she has to position herself correctly so that she has the right aim on her the food with her long drawn-out skull. This is because we can only move her tongue forwards and backwards but not sideways. There is simply not enough space in a Giant Anteaters long, narrow skull to do so. The tongue can move in and out as often as 3 times per second! Woah, I'm starting to feel dizzy just watching her… The fast movement comes from the fact that our tongue is barely attached to our hyoid bone. I really can't wait for my first snack!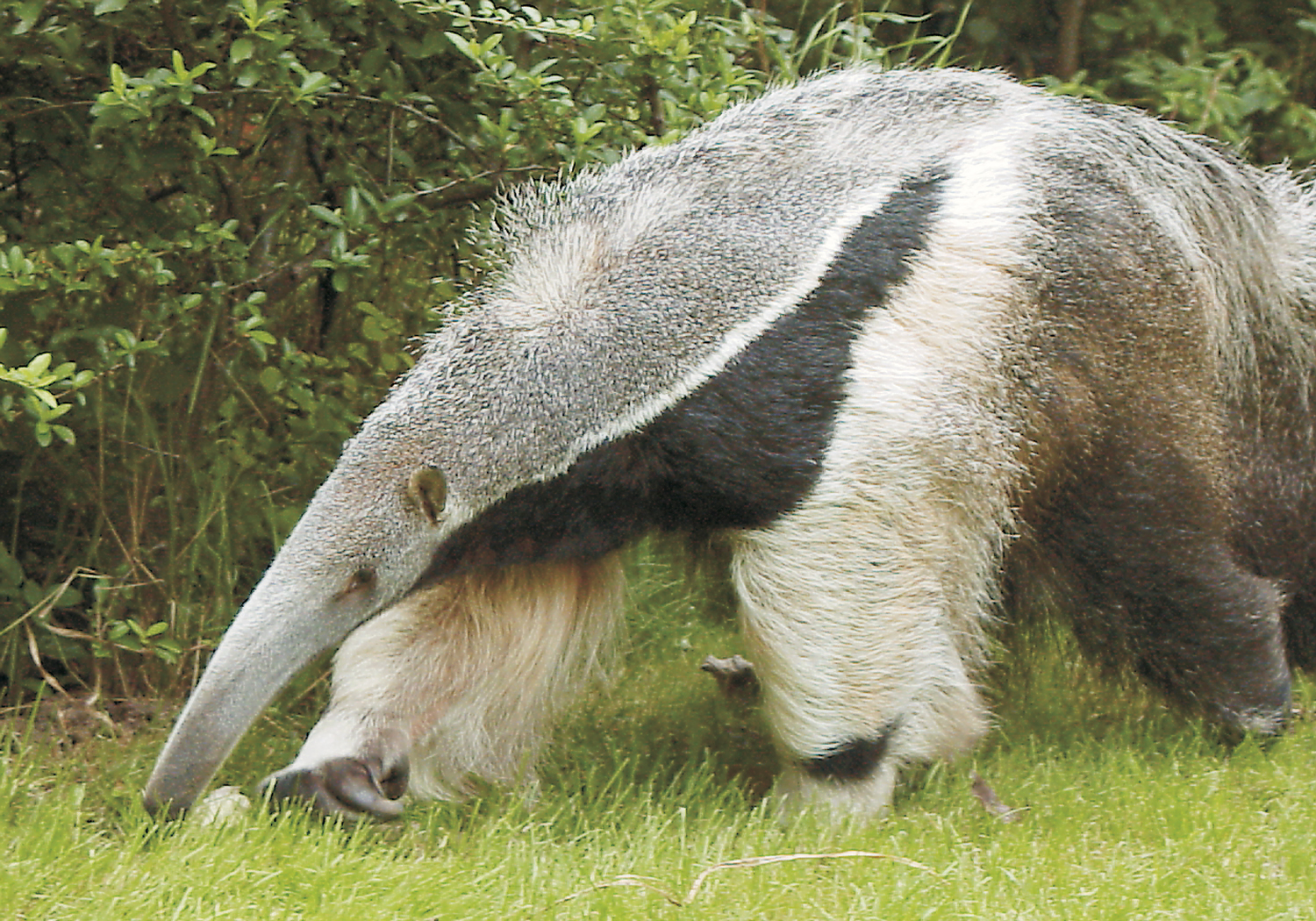 30. March 2021
Dear Diary,
My dad Kasper lives close to my mum and I on our left.  Adult Giant Anteaters live in solitarily, which is why my dad is okay with being on his own and having no direct contact with us. We can smell each other when we both roam in our outdoor enclosures, because there is only a fence separating us. My dad Kasper was born on the 13.07.2000 in Dortmund Zoo. He came to Magdeburg Zoo when he was one years old. Both my dad and my mum have had a lot of children together over the years. The last birth before me was in 2011.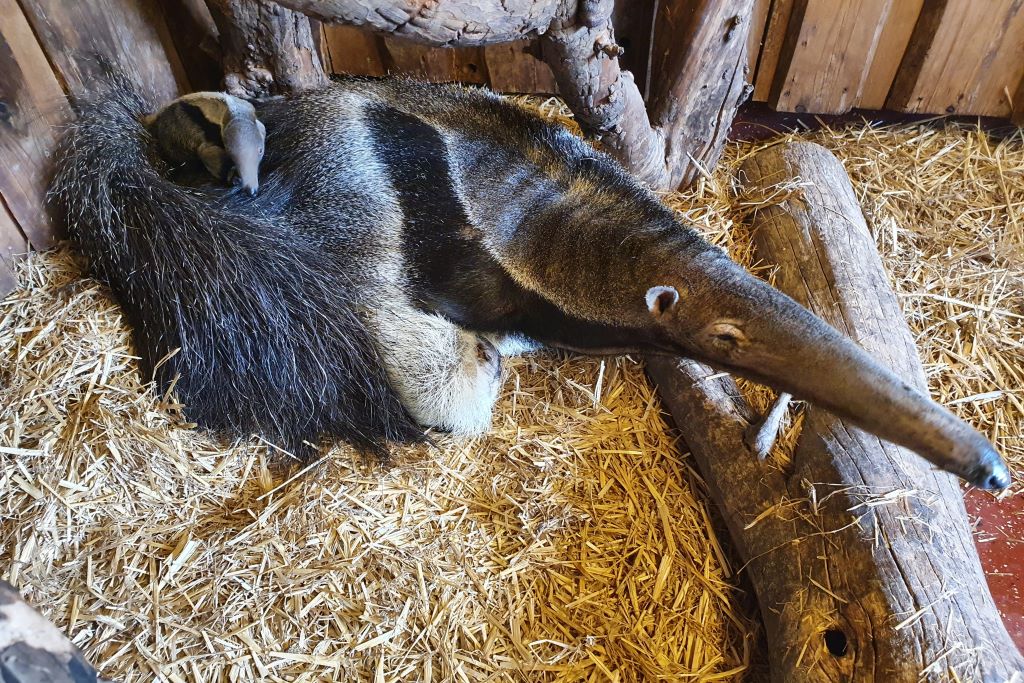 27. March 2021
Dear Diary,
Today I saw so many happy children that can only mean the school holidays have started. I still can't properly walk on my own, so my mum has to carry me on her back. That way I'm camouflaged so it's often hard to find me, a bit like looking for an Easter egg actually. I hope the children will have as much fun looking for me as they do looking for eggs.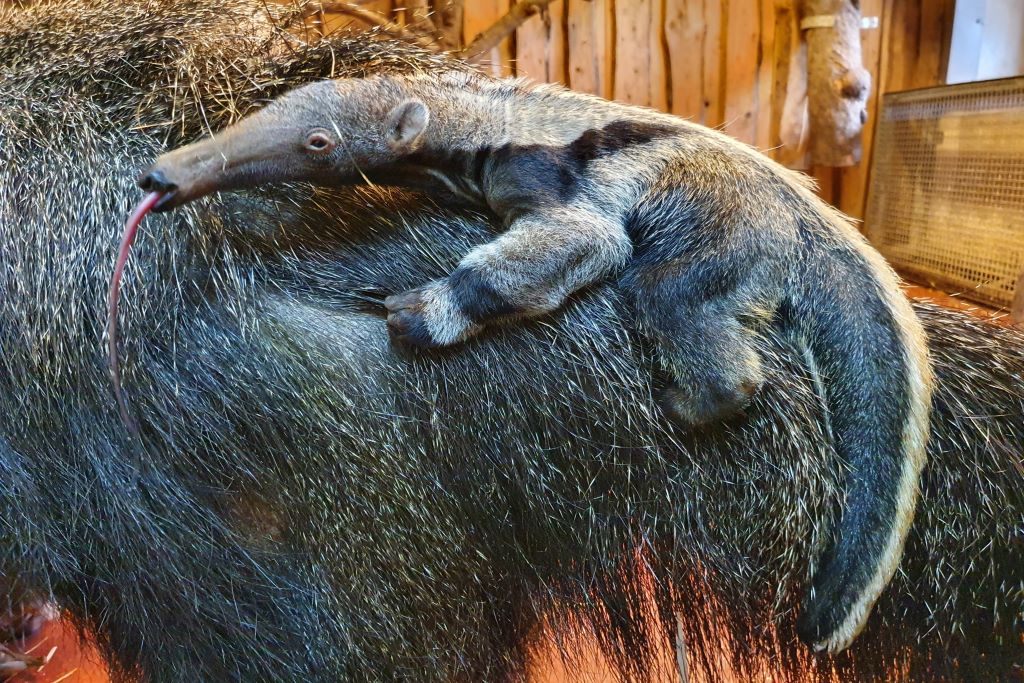 25. March 2021
Dear Diary,
On Saturday the first day of the Easter Holidays will start and I've heard there is a great activity for children happening regarding my diary. The kids get to pick their favourite diary entry and then draw a picture representing it! Not only will it be fun drawing, but they will also get the chance to win a kid's tour around the zoo with their friends. The best thing however is that the winner's picture will be published next to another one of my diary entries, so that everyone can see it. Isn't that awesome? I'm so excited as to which diary entries the children will choose to draw and how they will make the picture. Will they use watercolours or crayons, pencils or felt pens, will they draw me on my own or together with my mum? Oh… there are so many possibilities!
DRAWING COMPETITION FOR THE GIANT ANTEATER DIARY
Dear Children, Show us your talent in the Easter holidays! For the past 2 months, you have had the chance to follow our little Giant Anteater by reading up on its diary – but now it's your turn. Here you have the chance to draw your own picture of your favourite diary entry. You just need to send us your original picture or a photo of your masterpiece and then you have a chance of winning. The top 3 winners will receive a voucher for a kid's tour around the zoo. And the first prize will even get their picture posted alongside one of the diary entries on our website. So on you go and have a read up of the diary entries, and then choose which one is your favourite. We hope you enjoy your easter holidays and we look forward to seeing all your different pictures.
Deadline for the drawing competition is the 9.04.2021. We require your name, address and the dairy entry date of your picture. The winners will be announced by the 14.04.2021.
Original drawing by post:
Zoologischer Garten Magdeburg gGmbH
Zooallee 1, 39124 Magdeburg
Photo or scan by E-Mail:
fuehrung@zoo-magdeburg.de
23. March 2021
Dear Diary,
Although I am only a one-and-a-half-month old little Giant Anteater, I already have several hobbies. Firstly, I love being carried around on my mum's back where I get a good look at the world from higher up. I especially enjoy sitting there when the sun warms me from above and my mum's fur warms me from beneath. Mind you, I also enjoy spending time inside, where I cuddle up closely to my mum and fall sleep which is another favourite hobby of mine. While I'm there, I can also peacefully enjoy my next favourite pastime, which is drinking. Here I can drink as much milk as I like, in order to become a strong and healthy ant eater.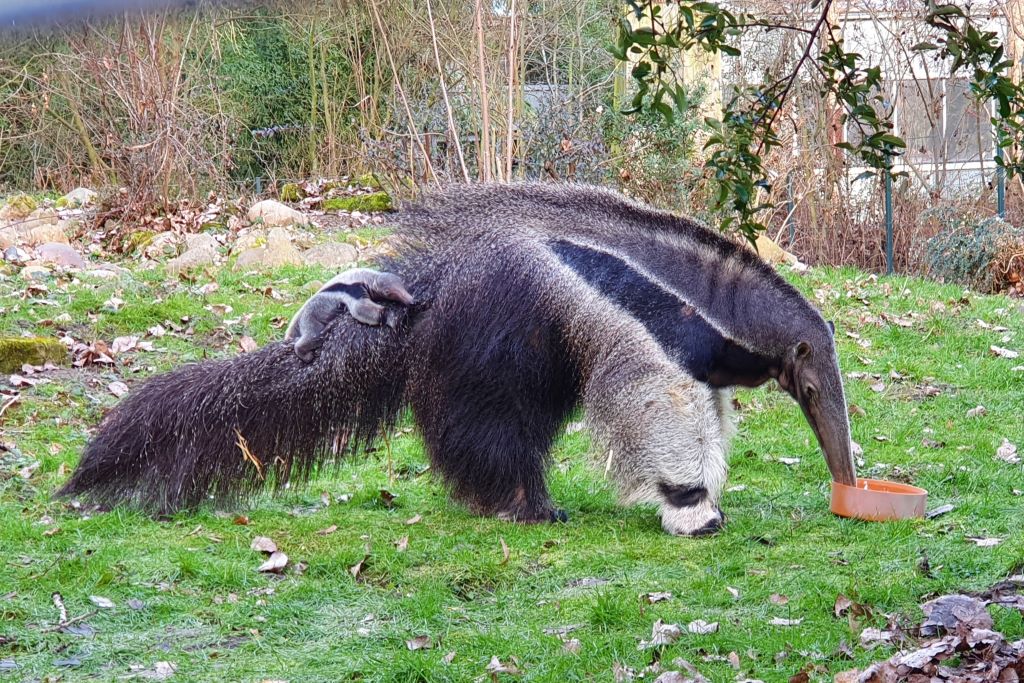 21. March 2021
Dear Diary,
Yesterday was the beginning of spring. I haven't actually noticed it at all, seeing as it's still pretty cold for Giant Anteaters, but at least I have seen the sun on a few occasions. There are definitely more signs of spring here in my enclosure as well as in the whole of the zoo. With my distinct sense of smell I have already managed to detect crocuses, snowdrops, hyacinths and irises. Those plants are beautiful to look at, but to eat them would never cross an anteater's mind. We prefer to stick to insectivore food and of course I still prefer my mum's milk for now.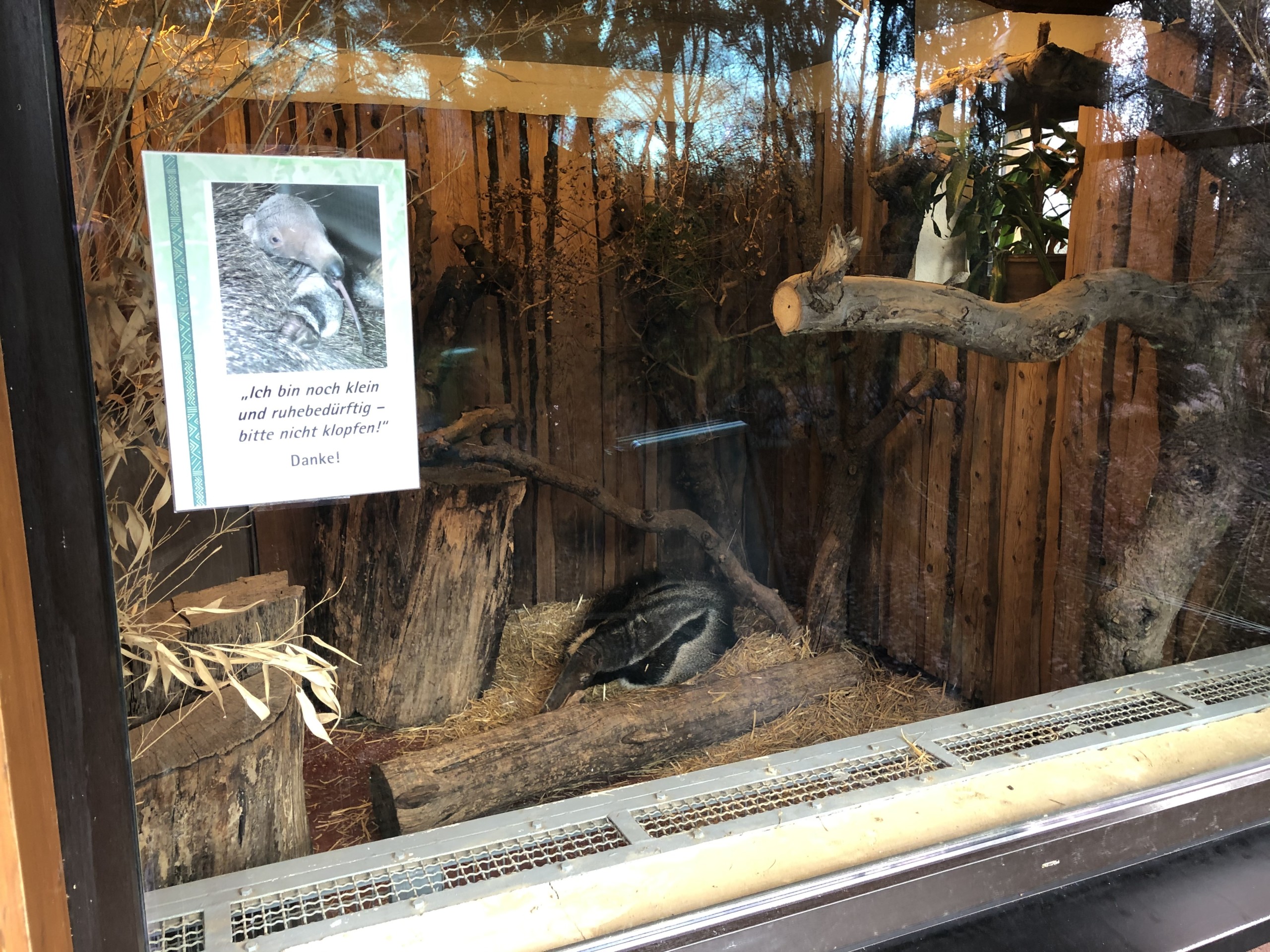 19. March 2021
Dear Diary,
I had such a good sleep and feel so rested. It's so nice and quiet here. The people that are coming to see me are so thoughtful and they keep nice and quiet when they look through our window. We really appreciate it because that way I can develop and discover new things without being disturbed. I also can't wait to get out and walk around outside with my mum. I just hope the weather stays good and the wind doesn't kick up again so that I have to stay in.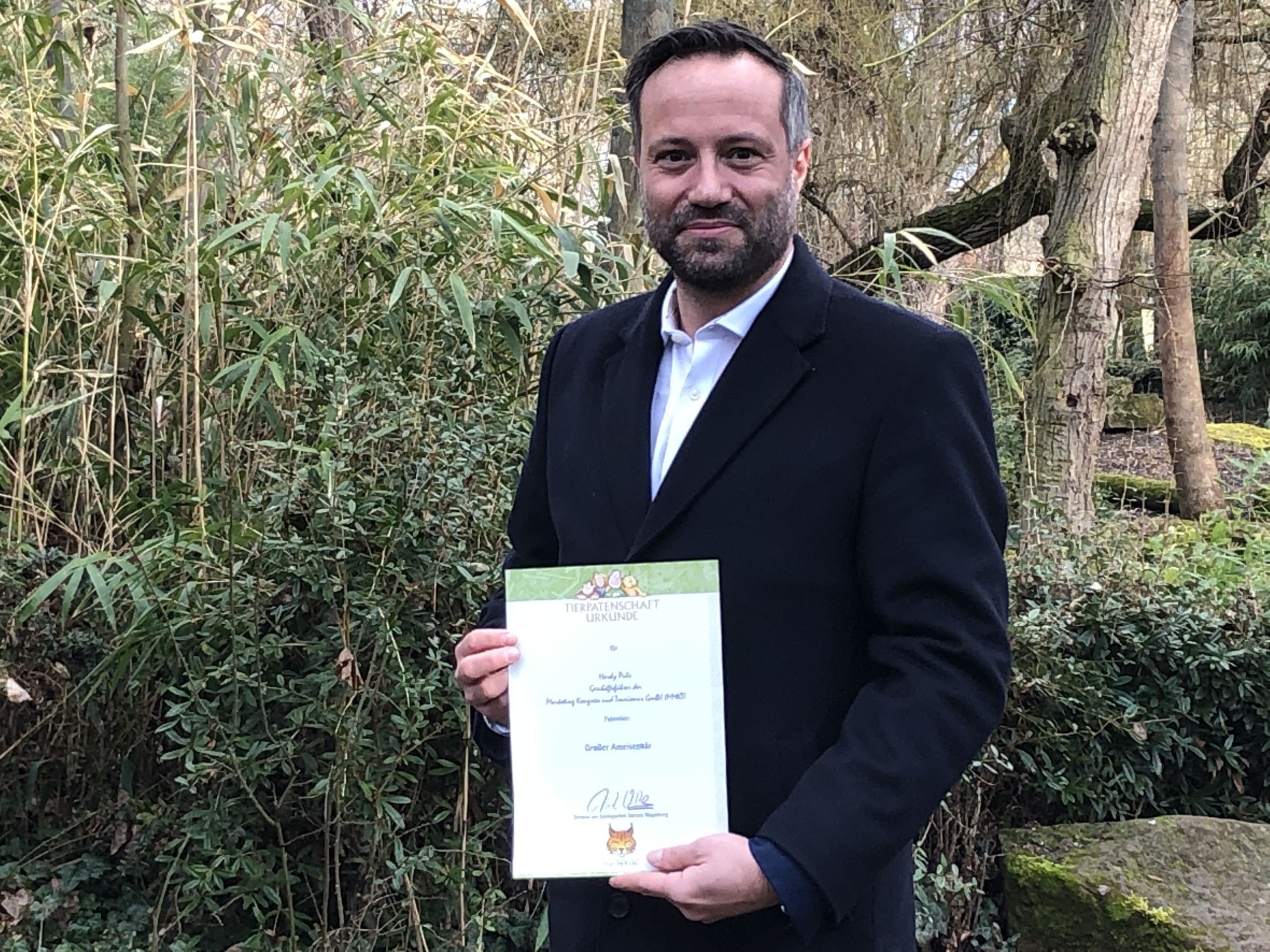 17. March 2021
Dear Diary,
Today was a very exciting day! I was outside with my mum when the boss of the zoo came to admire me with some visitors. Then, the next thing I knew , I'd been adopted by the new manager of the Magdeburg tourist board, Mr Hardy Puls. And guess what, he's also new to Magdeburg and has been here about the same length of time that I've been around.
Now I look forward to seeing even more people over the next few days who are just as curious to see me.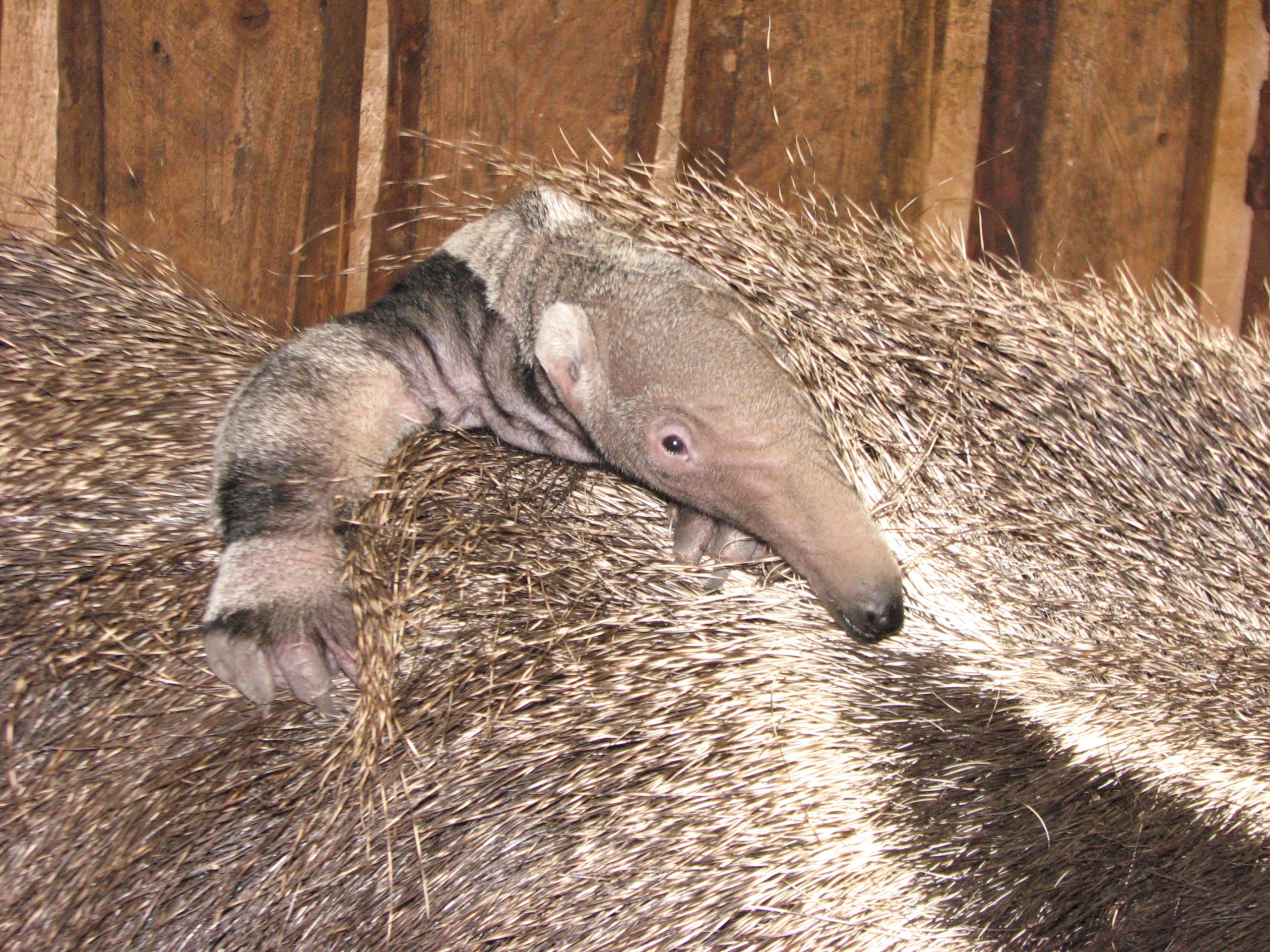 15. March 2021
Dear Diary,
In order to make Giant Anteater's habitat suitable for zoos, there are a lot of measures which are being taken to care for us. In Germany the requirements can be found in the "Mammal's Assessment" journal, published by the ministry. For example, the outdoor enclosure area has to be at least 40 square metre per animal. This area must have natural or sand ground and should be similar to that of a grass savannah. Tree stumps, bushes or sand areas are used to make it appear as similar as possible. Giant Anteaters also have a habit of leaving their excrement in the water, therefore there should always be a bathing area in the enclosure. The inside enclosure must not go below 15 C° and a floor heating is necessary for our sleeping areas.
13. March 2021
Dear Diary,
Look how good I can climb and see how strong my little claws are. My mum on the other hand is more interested in her lunch and hasn't even bothered to notice what I am up to. Well all I can say to that is  'bon appétit!'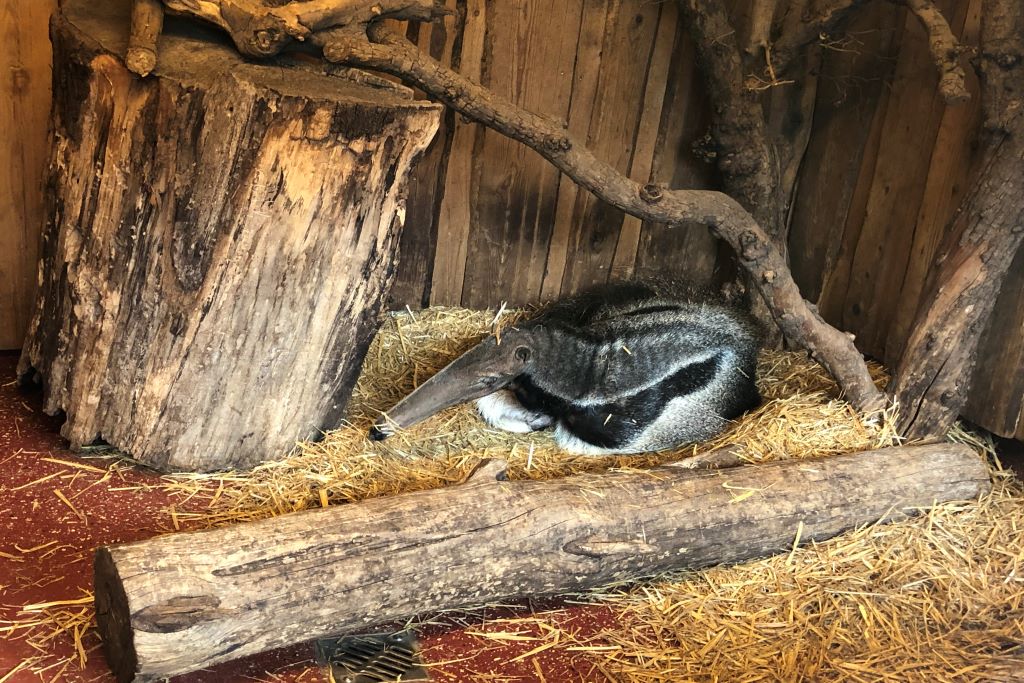 12. March 2021
Dear Diary,
What's going on today? This morning I didn't get to go outside at all because it was too windy – not even one step outside. Well that's what my mum thought anyway,  But I don't mind as it's nice and cosy inside too, just the way us South Americans like it.
I wonder what tomorrow is going to be like, but for now I'm off to sleep.
11. March 2021
Dear Diary,
Hmmm, I so look forward to my milk feed. I only have another 6 weeks of just having milk and then I need to wait and see what I'll get offered next. By the way, I have to stick my tongue out when I drink. That way I manage to drink as much milk as possible.
My mum 'Estrella' covers me very carefully with her bushy tail. When she does that I feel so protected and it makes me so happy to know how much she cares for me.
It's so cosy!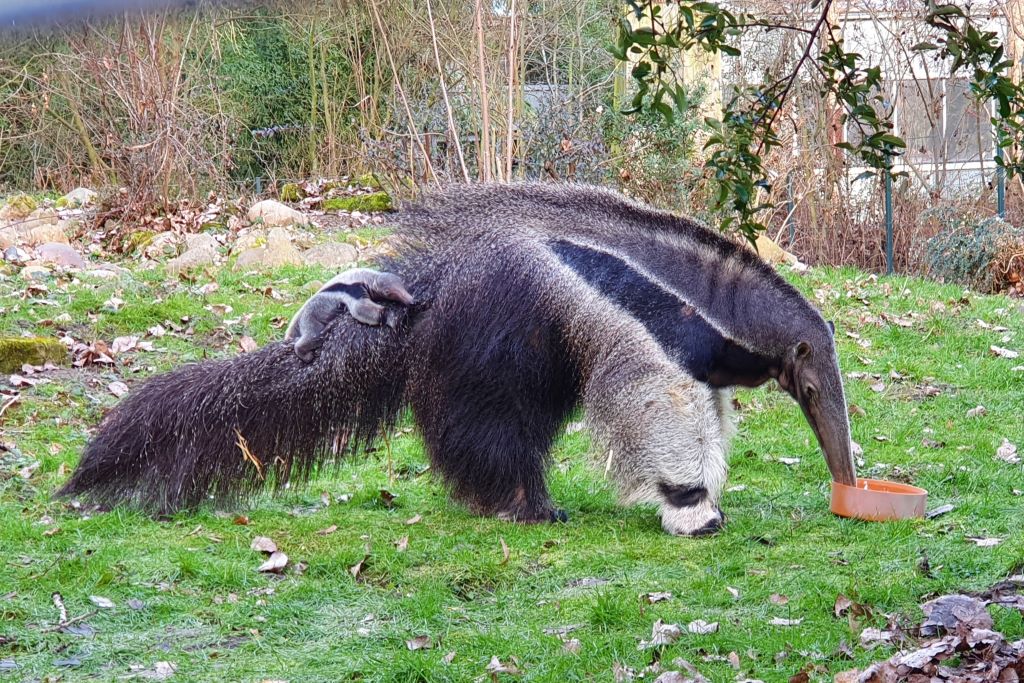 10. March 2021
Dear Diary,
In order to protect our species in the wild more and more scientific studies are being carried out. The more scientists know about Giant Anteaters, the better they can protect us in the wild. Bushfires are also a major cause for the decline of our population, therefore attempts are being made to find measures for fire protection. Also the locals are being educated that Giant Anteaters can be harmful when they need to protect themselves, though they are not as such dangerous animals if left alone. A few years ago, a group of Giant Anteaters were reintroduced into the wild in a reserve in the north of Argentina. This enabled the animals to be closely watched and the data was used to further protect the species.
9. March 2021
Dear Diary,
Yesterday I told you that the Magdeburg zoo participates in the EAZA ex-situ programme for Giant Anteaters. Such progammes exist for a variety of endangered species, so for us as well. The IUCN (International Union for Conservation of Nature) lists the Giant Anteater as a "vulnerable" species. The main reason for that is that our habitat in South and Central America is being destroyed. Our habitat is also getting taken over by more roads, so that more and more anteaters are dying as road kills. This is because we have bad eyesight, especially at night time. Tomorrow I will tell you what else is being done for the conservation of our species besides the EEP…
8. March 2021
Dear Diary,
I was born exactly one month ago! I am developing splendidly and everyone is crossing their fingers that this continues. You know, I am part of the EAZA ex-situ programme for Giant Anteaters, short EEP. This programme is coordinated by Dortmund Zoo and are responsible for managing the population of Giant Anteaters in European zoos. The coordinator collects information on all the Giant Anteaters kept in European zoos, creates a studbook and manages the future management of the species, hence relocating or breeding animals. This way threats like inbreeding can be reduced and the zoo population of the Giant Anteater stays healthy and steady. I wonder what the coordinator has planned for my future…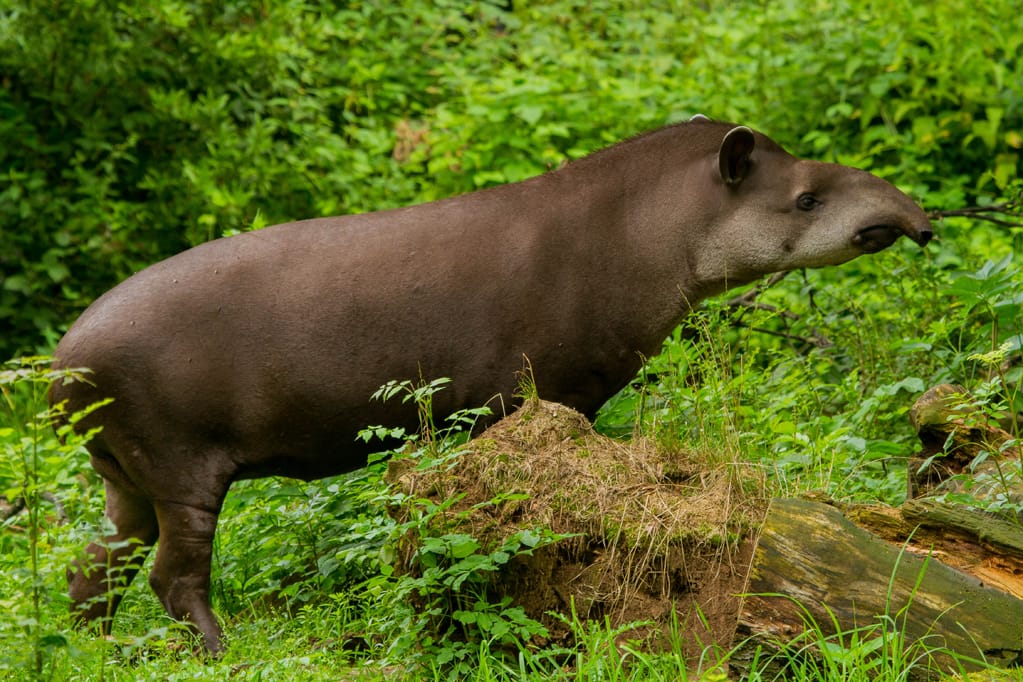 7. March 2021
Dear Diary,
On my last trip to the outdoor enclosure I saw our neighbours for the first time. They have strange-looking noses as well, though they are not related to us Giant Anteaters. It looks like they're tapirs! They also live in South America, but  the difference to us Giant Anteaters is that you can only find them in rainforests. With their trunk and their great sense of smell, they are able to sniff out their food which consists of grass, twigs, leaves and even windfall or water plants.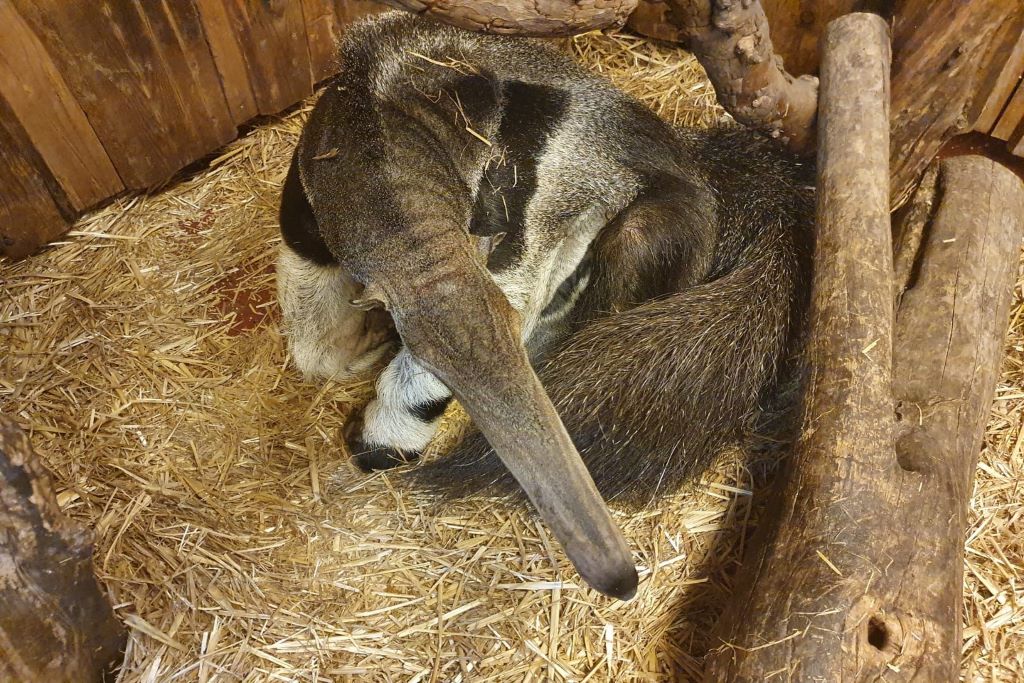 6. March 2021
Dear Diary,
Although one can now regularly see me in my enclosure, I am sometimes still difficult to find. I often hide close to my mum where it is difficult to see me. Sometimes you can also see my small ears which pop up amongst her fur. Are you able to spot me in the photo on the left?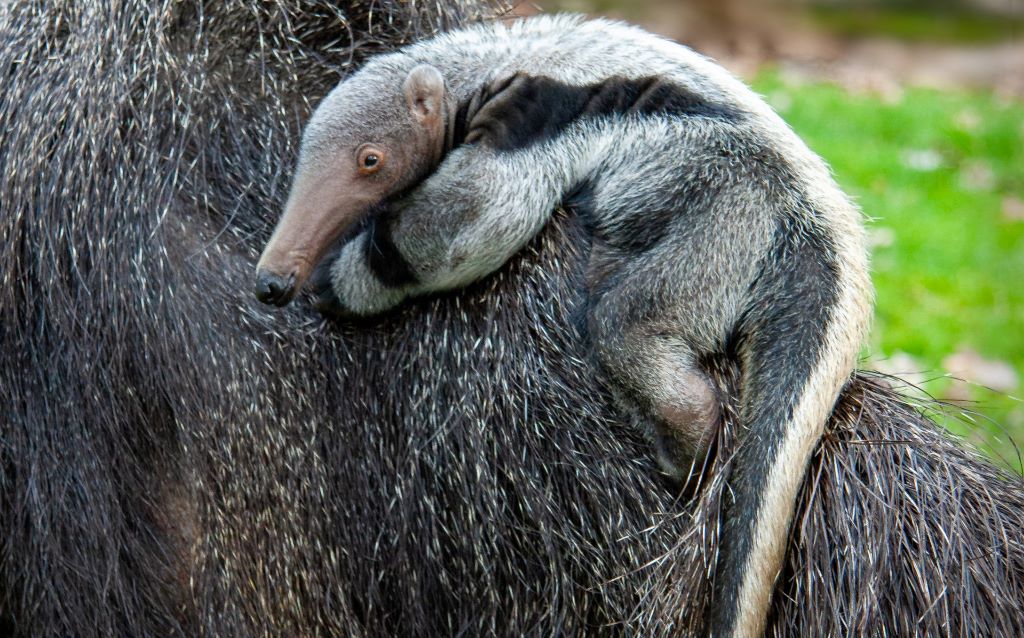 5. March 2021
Dear Diary,
This week our windows were cleaned and now all the mud has gone, so visitors can now get to see me in the inside enclosure for real. I have already had a lot of people come past to say hello and greet me. From my mum's back I can also get a glimpse of the outside world. Though many visitors already want to see me in action, nobody is advised to knock on our windows to wake me up. That's why there is an additional barrier in front of our windows. It's still important for my mom and me to get enough sleep and rest.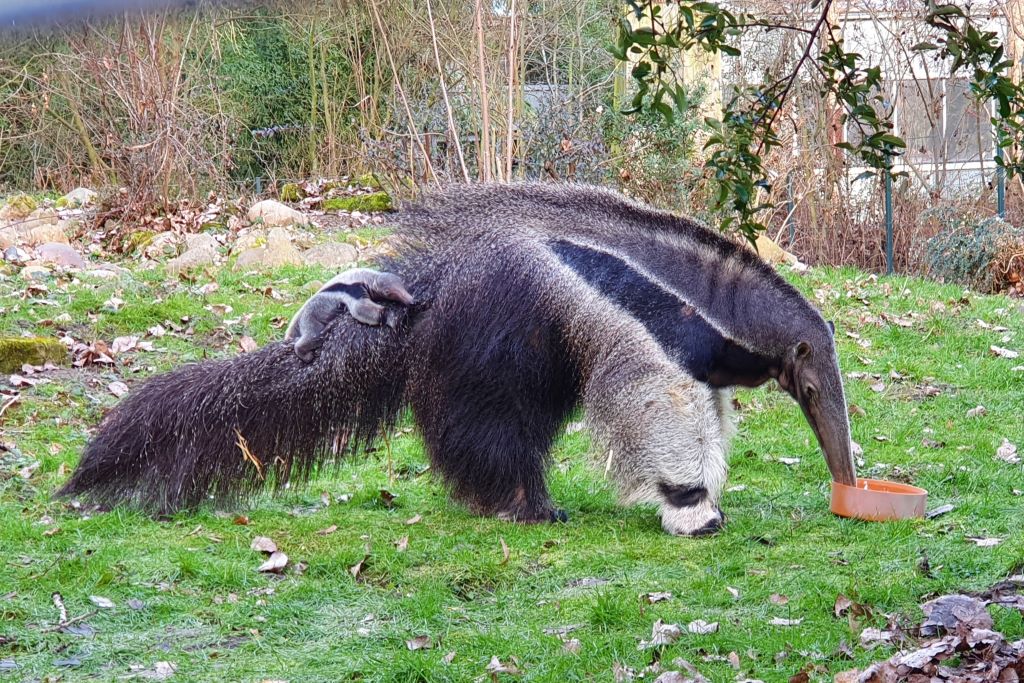 4. March 2021
Dear Diary,
My first trip to the outdoor enclosure was so exciting. I held on really tight to my mum's back when we went outdoors. It was pretty cold, especially for an anteater. Anyway, it sure looks different from the usual Giant Anteater habitat out there. Although we do also roam different kinds of territories in Central and South America. In the wild you can find Giant Anteaters in the tropical rainforest as well as in swamplands and the savannah, such as the Pantanal. We pretty much survive in various habitats as long as there are enough ants and termites for us to feed on. Even if it looks different here, I will probably be going outside more often now with my mum.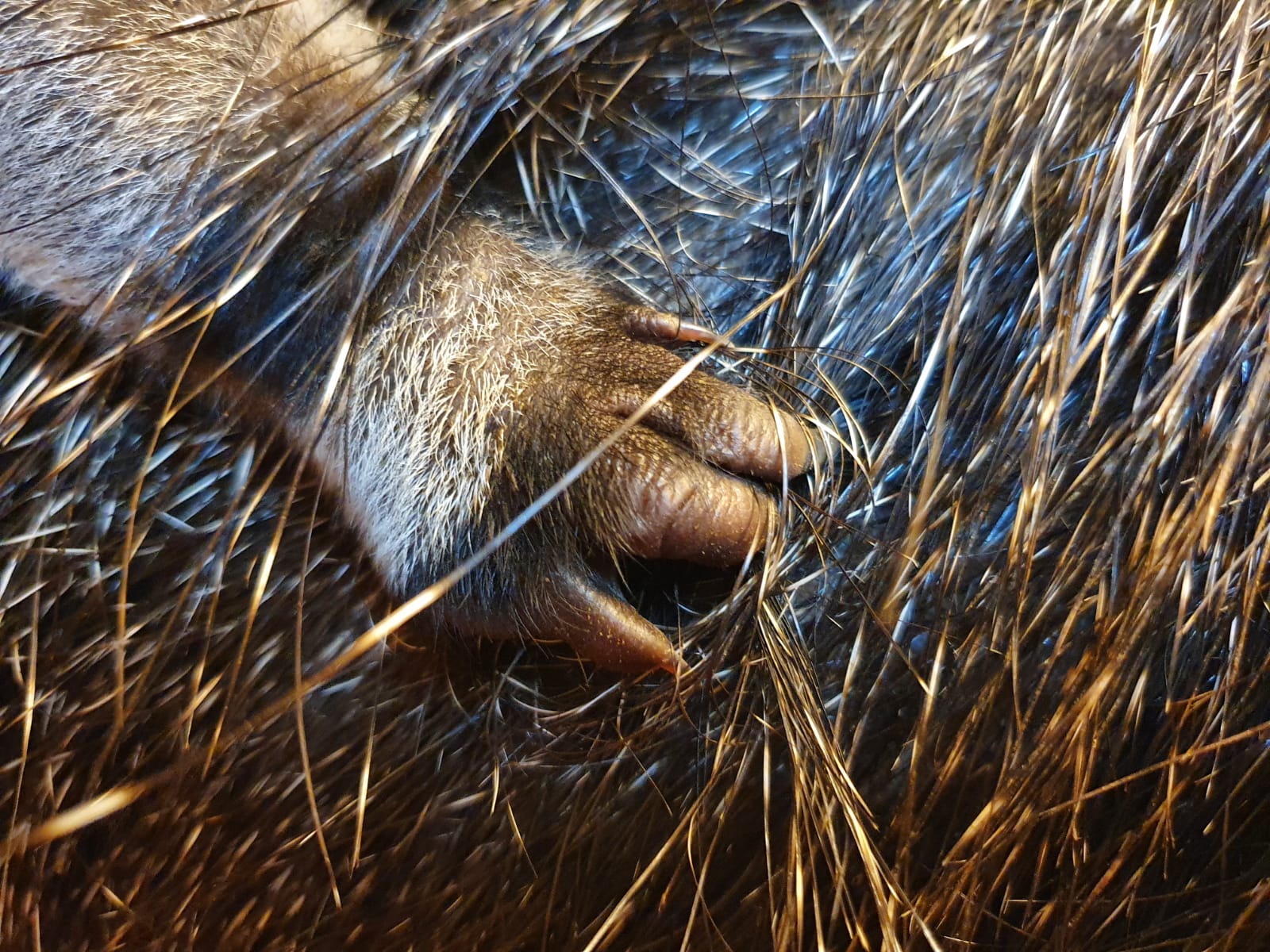 3. March 2021
Dear Diary,
Today I'm going outside for the first time. I'm so excited, but also a bit nervous, that I am getting to explore my outside enclosure with my mum. I'm sure going to hang onto my mum, so I don't fall off her and get left behind all on my own. Tomorrow I'll tell you all about my first time outside and how I got on. Wish me luck!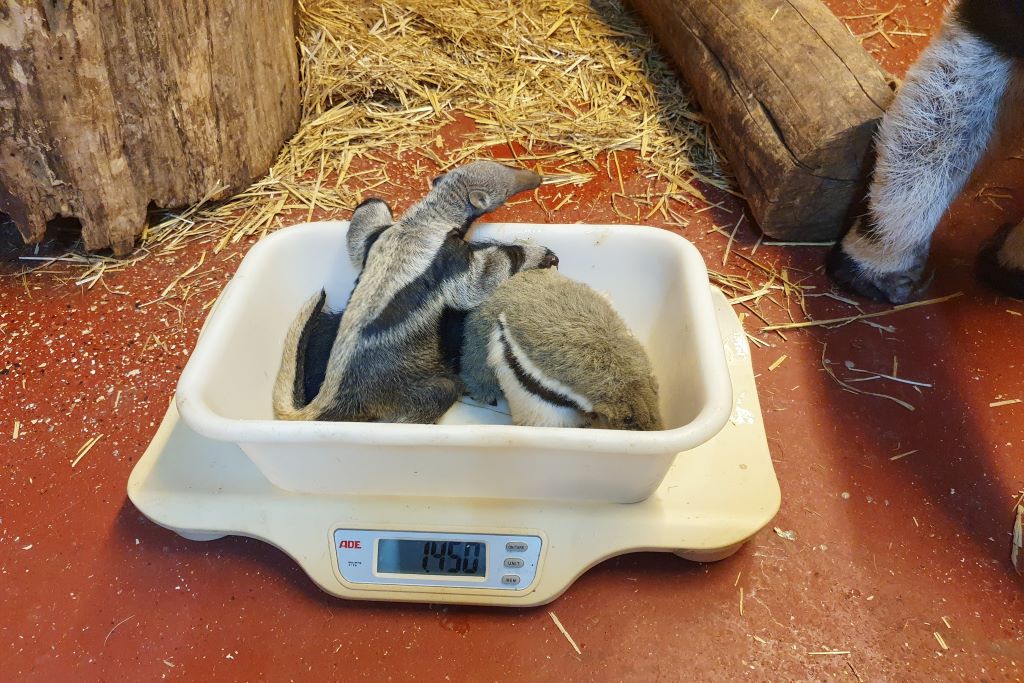 2. March 2021
Dear Diary,
Today I got weighed again. My keeper Petra Oppermann put me on the scale for just a few seconds and look for yourself how much weight I have put on. My keeper was pretty happy and noted my weight. So far I haven't managed to meet or see many people. I hope that's going to change so.
1. March 2021
Dear Diary,
Can you imagine, everybody wants to know if I'm a boy or a girl – the zookeepers, the press and my biggest fans the visitors. But it's not that easy to determine a giant anteater's sex, especially at my young age. So I'll just have to let you wait a little bit longer … though it would be nice, if I got a name one day.
28. February 2021
Dear diary,
Lying next to my mum, looking at her long, sharp claws could really frighten someone. She has claws on all five toes of her front paws, but only the central three are sickle-shaped and about 15 centimeters long. When she walks, she folds her claws under her paws out of the way and walks on her knuckles, similar to a chimpanzee. This way they also don't get blunt, which is important especially for anteaters in the wild. In the wild, we particularly need our claws to defend ourselves, but most importantly to forage. We tear open the termite nests by reaching into a small hole with our claws and then we pull it back with our strong front legs, which is called the "hook-and-pull-method". After that, we are ready to eat!
27. February 2021
Dear Diary,
I'm not even 3 weeks old yet, but can you imagine, anteaters have been on the earth for over 54 million years! This is the time when anteaters split from their close relatives the sloths. Together we represent the order of the Pilosa, which comes from the latin word "hairy". In German our name translates to "having only a few teeth", which is because anteaters don't have any teeth at all, and sloths only have 18 teeth. Anteaters and sloths are also related to armadillos. The three of us belong to the superorder of the Xenarthra. Though our appearance couldn't be more different, we still share some attributes like the extra joints on our vertebrae.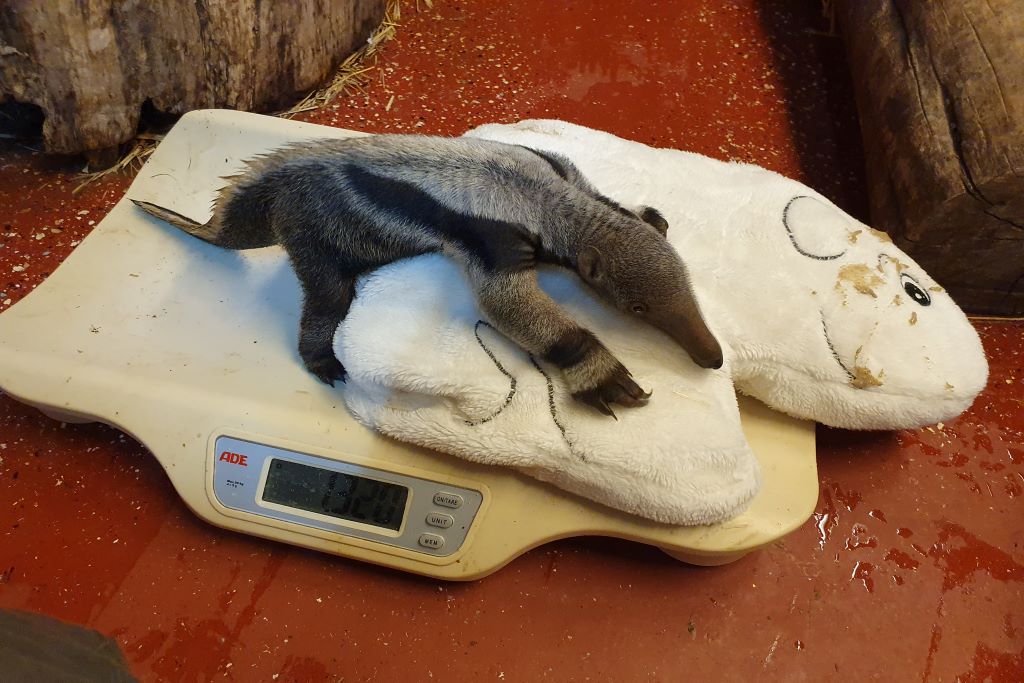 26. February 2021
Dear Diary,
Today I was weighed for the third time and I have already gained quite a lot of weight. Once a week I get weighed. On my fourth day I weighed exactly 1200 g, in the second week I put on 50 g and today I weigh a total of 1320 g. My keepers also measured my length and I certainly didn't make it easy for them to measure how big I am as I kept moving my nose. But in the end, they managed and now they know that I measure 60cm from the tip of my nose to the end of my tail. I still have to grow quite a bit though. An adult Giant Anteater weighs about 30 to 35 kilogramms and is about 2,5 meters long. The tail makes up about half of his whole body length and the long skull measures about 20 cm of it.
25. February 2021
Dear Diary,
I haven't managed to meet my dad Kasper yet, because Giant Anteaters are known to live on their own. But I get to spend plenty of time with my mum Estrella as long as I'm still small. She really takes good care of me. Seeing as it's too cold to go outside at the moment, we stay inside and cuddle up together. When I'm asleep, she covers me with her big, bushy tail to keep me warm. To make sure I  get enough fresh air, she sometimes lifts her tail and airs my sleeping spot between her front legs and her belly.  If I'm not happy about something, then I let her know by giving out a loud cry! This always brings her running to me to see what's wrong.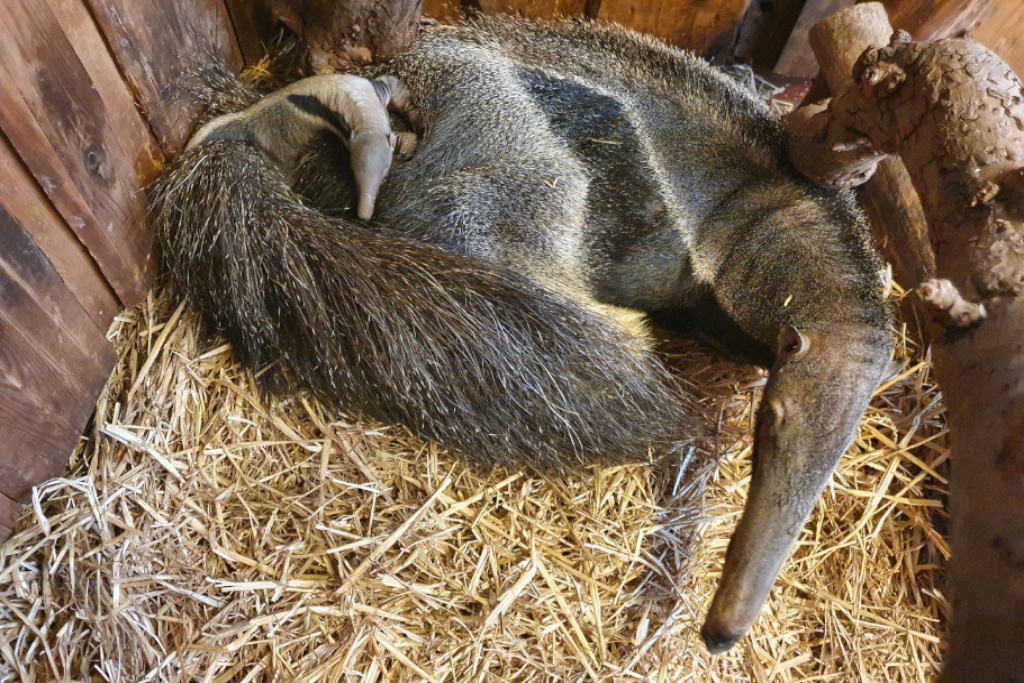 24. February 2021
Dear Diary,
Today I was closely watching my mum eat. You won't believe how long her tongue is! It measures 60 centimeters. I wonder if my tongue is ever going to be as long as hers when I'm fully grown. She uses her tongue to lick some kind of insectivore mash. It consists of 30 parts and is a great replacement for the 35.000 ants an adult Giant Anteater feeds on daily in the wild. This sounds like a lot, but it's only actually about 180 grams of food in total. I really quite liked the smell of this mash so I went to have a closer look. Somehow I managed to fall right into it and my mum had quite a hard time licking me clean again afterwards … well maybe it wasn't so hard after all.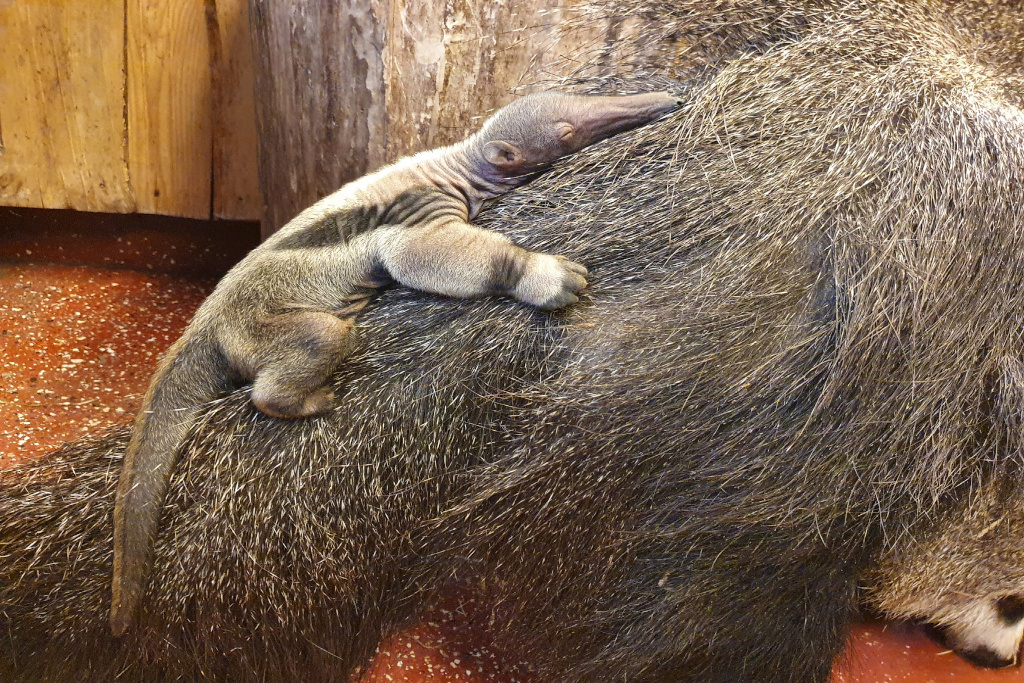 23. February 2021
Dear Diary,
I'm so proud of myself! Already I'm able to climb onto my mum's back as if it's the easiest thing in the world. At the beginning it didn't quite look as easy, I can tell you. My mum's shoulder height is about half a meter and I just couldn't get up there. I was constantly trying to climb up on her front legs but it took me three days to realise that I had to use her back legs as a ladder. Well that certainly made it a lot easier for me. It's very important for little Giant Anteaters to sit on their mother's backs, especially when they are in the wild. This way our mums can take us with them and we are perfectly disguised thanks to our camouflage. When my mum goes out looking for food, she already sometimes leaves me behind on my own BUT not with me! I always try to crawl after her as fast as I can.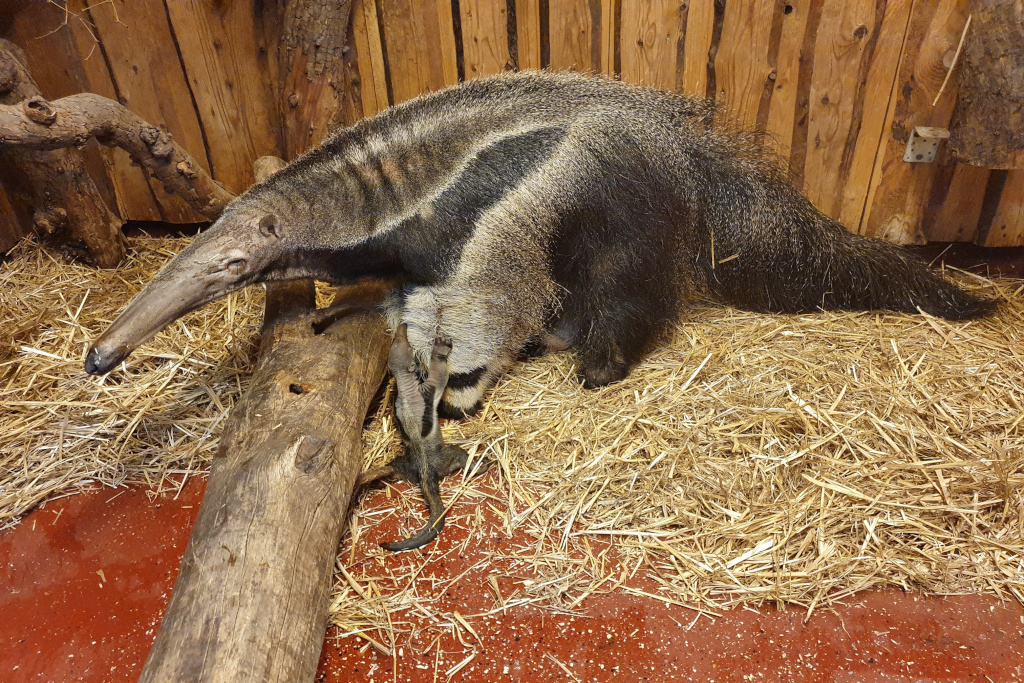 22. February 2021
Dear Diary,
It has now been two weeks since I was born at the Magdeburg Zoo. What an exciting day it was! Seeing as I am rather special being a rarity in zoos, the zookeepers were thrilled when they discovered me lying next to my mother Estrella. For your information, I belong to the Giant Anteater species, though I must admit I'm still pretty small. Taking care of my species and breeding within zoos is not exactly easy. That's why my keepers were overjoyed when I was born and are hoping that I'll keep growing and getting stronger each day. To let my mother and I get some rest, the keepers have blocked the view into our enclosure which means I have to be patient until I get to see my first visitors.